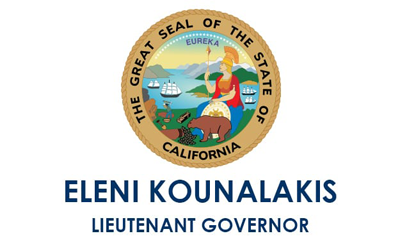 FOR IMMEDIATE RELEASE
Contact:
Press@ltg.ca.gov
916-445-8994
---
SACRAMENTO – Lieutenant Governor Eleni Kounalakis issued the following statement today after the California State Senate approved, and Governor Gavin Newsom signed into law, SB 793 (Hill), which bans the retail sale of most flavored tobacco in California.
"As a mother of teenage sons, I have seen firsthand how vaping has infiltrated our schools and our children's lives. This landmark law will put a stop to the insidious ways that tobacco is advertised to our children, and it will make a true impact on the health and lives of so many Californians.
I thank the Governor for his swift and decisive action on SB 793. I also commend Senator Hill for his dedication to this worthy cause, along with the many legislative co-authors and advocates who worked tirelessly for this win."
Lieutenant Governor Kounalakis is a proud co-sponsor of SB 793, and was proud to stand with Senator Jerry Hill (D-San Mateo) and a coalition of supporters when the bill was introduced in January 2020.
###
Eleni Kounalakis is the 50th lieutenant governor of California and the first woman elected to the position. From 2010 to 2013, Kounalakis served as President Barack Obama's Ambassador to the Republic of Hungary. In 2019, Governor Gavin Newsom designated Kounalakis as his Representative for International Affairs and Trade Development, and as Chair of the corresponding Interagency Committee that oversees the state's trade, investment and international relations. Kounalakis also serves on the three-member State Lands Commission, and as a voting member of the University of California Board of Regents and the California State University Board of Trustees.