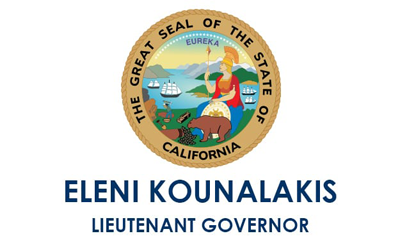 FOR IMMEDIATE RELEASE
Contact:
Press@ltg.ca.gov
916-445-8994
SACRAMENTO – Lieutenant Governor Eleni Kounalakis released the following statement today in response to Governor Gavin Newsom announcing that he has appointed Secretary of State Alex Padilla to the US Senate, filling the term being vacated by Vice President-elect Kamala Harris:
"Today's announcement is historic. The son of immigrants, Alex Padilla truly embodies the California Dream. I know Senator Padilla will bring the kind of compassion and experience to the US Senate that will make us all proud."
###
Eleni Kounalakis is the 50th lieutenant governor of California and the first woman elected to the position. From 2010 to 2013, Kounalakis served as President Barack Obama's Ambassador to the Republic of Hungary. In 2019, Governor Gavin Newsom designated Kounalakis as his Representative for International Affairs and Trade Development, and as Chair of the corresponding Interagency Committee that oversees the state's trade, investment and international relations. Kounalakis also serves on the three-member State Lands Commission, and as a voting member of the University of California Board of Regents, the California State University Board of Trustees, and the California Community Colleges Board of Governors.