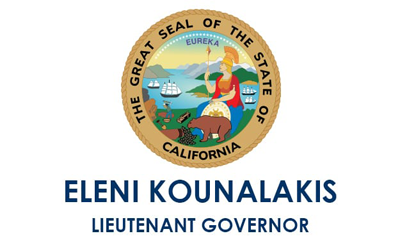 FOR IMMEDIATE RELEASE
Contact:
Press@ltg.ca.gov
916-445-8994
Lt. Governor Eleni Kounalakis, California's representative for International Affairs and Trade Development, will welcome His Royal Highness Crown Prince Haakon of Norway to San Francisco today for a virtual two-day business delegation visit.
Thanks to the help of technology that puts the Crown Prince in the "same room" as his Californian hosts, Lt. Governor Kounalakis will kick off the visit with a sit-down conversation with the Crown Prince and Norwegian Minister of Foreign Affairs Ine Eriksen Søreide. Their discussion will preview the key focuses of the delegation's visit, including: climate change, the value of higher education and research institutions, and the role of green tech in economic recovery.
"California and Norway share more than the world's most beautiful coastlines; we share a common outlook and aligned values," said Lt. Governor Kounalakis. "With the aid of remarkable digital technology, I'm honored to welcome Crown Prince Haakon, who is a graduate of UC Berkeley, back to California for this two-day virtual visit."
The 9:00am event may be viewed online by media or the general public at Norway Events. The remaining sessions of the Crown Prince's visit include: the signing of an MOU between the Governor's Office of Business & Economic Development (GO-Biz) and Innovation Norway, interventions by Norway's Minister of Trade and Industry and Minister of Petroleum and Energy, a conversation with House Speaker Nancy Pelosi, and panel discussions on zero emission mobility, offshore wind power, and funding sustainable excellence. Information about the program, participants and registration information is available at Norway Events.
######
Eleni Kounalakis is the 50th lieutenant governor of California and the first woman elected to the position. From 2010 to 2013, Kounalakis served as President Barack Obama's Ambassador to the Republic of Hungary. In 2019, Governor Gavin Newsom designated Kounalakis as his Representative for International Affairs and Trade Development, and as Chair of the corresponding Interagency Committee that oversees the state's trade, investment and international relations. Kounalakis is also Chair of the three-member State Lands Commission, and a voting member of the University of California Board of Regents, the California State University Board of Trustees, and the California Community Colleges Board of Governors.