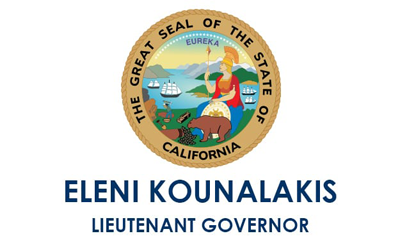 FOR IMMEDIATE RELEASE
Contact:
Press@ltg.ca.gov
916-445-8994
Sacramento, CA – Today, Lieutenant Governor Eleni Kounalakis announced two new appointees and one reappointment to the Independent Citizens' Oversight Committee (ICOC), the board that governs the California Institute for Regenerative Medicine (CIRM).
In November 2020, voters approved Proposition 14 (Stem Cell Research Institute Bond Initiative), which issued $5.5 billion in bonds for CIRM. Proposition 14 also expanded the number of members of the ICOC, which is made up of patient advocates, leaders from California research institutions, and biotechnology industry experts.
The first of Lt. Governor Kounalakis' appointments is Dr. Le Ondra Clark Harvey as Patient Advocate for Mental Health. Dr. Clark Harvey has a Ph.D. in Counseling Psychology from the University of Wisconsin. She is the current Chief Executive Officer for the California Council of Community Behavioral Health Agencies, where she previously served as the Director of Policy and Legislative Affairs. She has also served as a policy consultant to committees in the California State Assembly and Senate and brings a robust understanding of California policy pertaining to patients with mental health conditions. Her term is for eight years and ends in December 2028.
The second of Lt. Governor Kounalakis' new appointments is Fred Fisher as Patient Advocate for amyotrophic lateral sclerosis (ALS) and Multiple Sclerosis. Mr. Fisher has served as the President and CEO of the ALS Association, Golden West Chapter since 2003, which provides support services for people with ALS. He has also been a contributing member of two of CIRM's Clinical Advisory Panels as well as various patient advocacy councils and organizations. Mr. Fisher has been a dedicated advocate for those with ALS and understands the intricacies of the disease. His term is for eight years and ends in December 2028.
"It is an honor to appoint Dr. Clark Harvey and Mr. Fisher to their new positions on the ICOC board," said Lt. Governor Kounalakis. "They each bring years of expertise, and deep dedication to patients, that will be of great value to the board and the people of California as they begin their terms on the ICOC."
Lt. Governor Kounalakis also reappointed Dr. Adriana Padilla to the ICOC, who currently serves as the Patient Advocate for Type II Diabetes. Dr. Padilla was originally appointed in 2015 by Governor Gavin Newsom when he was Lieutenant Governor. Her next term is also for eight years and ends in December 2028.
"It is my pleasure to reappoint Dr. Padilla to the ICOC. I believe she will continue to be a valued member of the board and as an advocate for those with Type II diabetes. I have no doubt that her work and experience through her private practice in the Central Valley has been a tremendous asset to the board."
Lt. Governor Kounalakis' appointees will begin their terms at the next meeting of the ICOC, which takes place tomorrow virtually. You can find the meeting notice and agenda here.
###
Eleni Kounalakis is the 50th lieutenant governor of California and the first woman elected to the position. From 2010 to 2013, Kounalakis served as President Barack Obama's Ambassador to the Republic of Hungary. In 2019, Governor Gavin Newsom designated Kounalakis as his Representative for International Affairs and Trade Development, and as Chair of the corresponding Interagency Committee that oversees the state's trade, investment and international relations. Kounalakis is also Chair of the three-member State Lands Commission, and a voting member of the University of California Board of Regents, the California State University Board of Trustees, and the California Community Colleges Board of Governors.