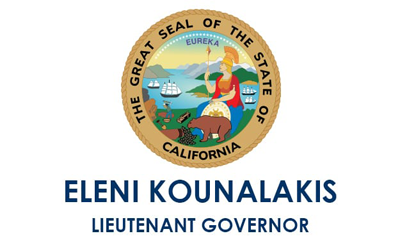 FOR IMMEDIATE RELEASE 
Contact: 
Press@ltg.ca.gov
916-445-8994
SACRAMENTO – On behalf of California Governor Gavin Newsom, Lieutenant Governor Eleni Kounalakis will lead California's delegation to the 2021 United Nation's Climate Change Conference (COP26) in Glasgow, Scotland next week. Lieutenant Governor Eleni Kounalakis released the following statement:
"I look forward to leading California's delegation to the United Nation's Climate Change Conference next week on behalf of Governor Newsom. When it comes to climate action, California's leadership is among the most stable, steadfast and reliable in the world. Although California has made remarkable progress, commitment across national and subnational governments is the most critical component of our fight against climate change."
Lieutenant Governor Kounalakis will lead a delegation of state lawmakers and environmental leaders to highlight California's stalwart leadership on fighting climate change and to discuss the need for stronger partnership among national and subnational governments in our efforts to safeguard our future.
For further information on the Lieutenant Governor's visit please contact press@ltg.ca.gov. 
MEDIA COVERAGE: To view the information on media accreditation visit COP 26. Reporters may also send inquiries to press@unfccc.int.
###
Eleni Kounalakis is the 50th lieutenant governor of California and the first woman elected to the position. From 2010 to 2013, Kounalakis served as President Barack Obama's Ambassador to the Republic of Hungary. In 2019, Governor Gavin Newsom designated Kounalakis as his Representative for International Affairs and Trade Development, and as Chair of the corresponding Interagency Committee that oversees the state's trade, investment and international relations. Kounalakis is also Chair of the three-member State Lands Commission, and a voting member of the University of California Board of Regents, the California State University Board of Trustees, and the California Community Colleges Board of Governors.