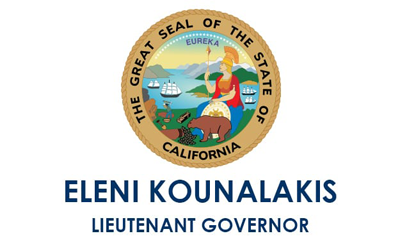 FOR IMMEDIATE RELEASE
Contact:
Press@ltg.ca.gov
916-445-8994
SACRAMENTO – Lieutenant Governor Eleni Kounalakis returns to California today from the United Kingdom where she led the state's delegation to the 2021 United Nation's Climate Change Conference (COP26) in Glasgow on behalf of California Governor Gavin Newsom. Upon her return Lieutenant Governor Eleni Kounalakis released the following statement:
"I left COP26 feeling energized and hopeful about our path forward in fighting climate change. It was an honor to lead California's delegation and share the California story. California is a global leader and model for climate action while also achieving unprecedented economic growth. I was proud to share these successes with our international partners and representatives from other states, tribal nations and the private sector."
Highlights and recordings of the Lieutenant Governor's participation can be found below:
Breakdown to Breakthrough: A new Shared Path Forward on Climate in the U.S.
White House National Climate Advisor Gina McCarthy, Louisiana Governor John Bel Edwards, New Mexico Governor Michelle Lujan Grisham
Recording: https://www.youtube.com/watch?v=1PXrUtsvVWA
State & Federal Collaboration to Confront the Climate Crisis
US Presidential Envoy for Climate John Kerry, Louisiana Governor John Bel Edwards, New Mexico Governor Michelle Lujan Grisham
Recording: https://www.youtube.com/watch?v=mmIKKKsgoDc
Signing of the Edinburgh Declaration, making California the first American state to join a global network of governments taking action to protect the environment and biodiversity.
Lieutenant Governor Kounalakis led a delegation of state lawmakers and environmental leaders to highlight California's stalwart leadership on fighting climate change and to discuss the need for stronger partnership among national and subnational governments in our efforts to safeguard our future. California's participation in COP26 continues next week as members of California's delegation join for additional elements of the program.
For further information on the Lieutenant Governor's visit please contact press@ltg.ca.gov.
###
Eleni Kounalakis is the 50th lieutenant governor of California and the first woman elected to the position. From 2010 to 2013, Kounalakis served as President Barack Obama's Ambassador to the Republic of Hungary. In 2019, Governor Gavin Newsom designated Kounalakis as his Representative for International Affairs and Trade Development, and as Chair of the corresponding Interagency Committee that oversees the state's trade, investment and international relations. Kounalakis is also Chair of the three-member State Lands Commission, and a voting member of the University of California Board of Regents, the California State University Board of Trustees, and the California Community Colleges Board of Governors.